Sothink SWF Decompiler V6.0
Product :
Flash to Video
License :
Free Trial ;
$79.99
OS Supported :
Windows Vista / Me / NT 4.0 / 2000 / XP /7
Size :
9.25
MB
Date Added :
2009/05/06
Support :
+86-27-67848991;
support@sothink.com
About Sothink SWF Decompiler V6.0
Professional Flash Decompiler for you to convert
SWF to FLA
,
SWF to FLEX
, and easily extract Flash resources like images, sounds (mp3, wav), videos (flv), ActionScript, etc. Supports Flash CS3/CS4/
CS5
and
ActionScript 3
; Able to get
XFL
file from Flash CS5 SWF; Globally searches all ActionScript; Exports SWF resources in batch; Auto-recognizes system language; One-click online Flash capture and download; Multilingual and user-friendly.
SWF Decompiler Features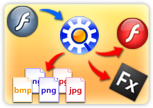 Industry-leading Flash Decompiler
Convert SWF to FLA
Convert SWF to FLEX project
Extract SWF elements
Get XFL from Flash CS5 SWF

New

Office 2007 style, multi-language interface: English, German, French, Traditional Chinese, Italian and Korean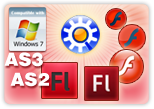 Full Compatibility
Support Flash CS3/CS4/CS5

New

Fully support Flash 6/7(MX 2004)/ 8/9(CS3)/10(CS4)
Support ActionScript 2.0/3.0
Compatible with Windows 7
Support Flash components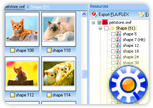 Powerful Flash Decompile Capability
Decompile SWF in batch mode
Decompile the standard EXE made by Adobe Flash to FLA
Navigate and browse resources in preview window before SWF decompile
Show AS Class structure like folder-tree according to its path in package when decompile AS3.0. Globally search all ActionScript is supported
Export ActionScript file in AS, BIN or HTML
Export the FLV video from Flash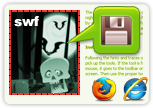 Useful Assistance
Provide SWF Catcher to download online Flash from IE or Firefox
Offer a built-in Flash player to play SWF/FLV/F4V
Auto-recognize system language
Snapshot the playing Flash movie
What's new in Sothink SWF Decompiler 6.0
Support Flash CS5. Enable to get XFL file from Flash movie.
Auto-check the program version;
Optimize the settings for exporting single and multiple SWF files.
When Flash movie (SWF/EXE) has been added to the "Multi-file Export", the SWF/EXE file and the folder contains this file will be signed with plus in Explorer window.
Add the button "Recent Files" on the ribbon bar.
Introduce the function "Add to Favorites" to the program.
Improve the user experience in interface to make it user-friendly.
SWF Decompiler Testimonials
"...its a good software, i never thought that swf file will convert into original fla file, its a really orderful software."
"I love your SWF deCompiler product - it has helped me *so* much in troubleshooting issues. Thanks again for your great products"
"Definitely the leading software for Flash decompilers. Even the 15-day trial works."

How to decompile Flash CS5 movie and get XFL file?
Sothink SWF Decompiler is the first Flash decompiler that supports decompiling Flash CS5 movie and getting XFL format source files. You can then open the XFL file in Adobe Flash CS5 environment and make further alterations. It is the perfect solution for you to recover Flash CS5 XFL files from SWF.
What is XFL? Here is a short explanation. (Skip this paragraph if you've got familiar with XFL).
XFL is a new file format available to Flash Professional CS5. Similar to the interchange file format available in Adobe Creative Suite 4, XFL files store the same information as a FLA file but in XML format.
See following tutorial to learn how to get XFL file from Flash CS5 SWF.
Recommended XFL decompiler: Sothink SWF Decompiler 6.0
Download Sothink SWF Decompiler for free experience >>
Step 1: Decompile the Flash CS5 SWF to FLA
1. Launch Sothink SWF Decompiler, and open the target Flash CS5 SWF that you want to decompile XFL.
2. Go to the right panel, choose "Single File Export".
3. Now you will find two export options: Export FLA/FLEX and Export Resources. Please choose "Export FLA/FLEX", and you will see the following dialog box.
Specify the path to save the exported FLA file. In the "Export Version" drop-down list, please choose "Export as Flash CS5 (11.0) format", and then click OK.
4. Now the target Flash CS5 SWF (Get XFL.swf) has been exported as FLA file (~Get XFL.fla), and you can find it in the path you specified.
Step 2: Get XFL File from the Decompiled FLA
1. Find the exported FLA file and rename its file extension from "fla" to "zip". See the following, "~Get XFL.fla" is changed into "~Get XFL.zip".
2. Unzip the "~Get XFL.zip" file, and you will get all the XFL, XML files and resources.
3. Now, you have decompiled the target SWF into XFL successfully, and you can open this XFL file in Adobe Flash CS5 for further alterations.

Screenshots
More Flash to Video
More Sothink Product